Sydney University Cricket Club is very proud to announce that Surjits Indian Restaurant has extended their partnership and will continue as the Club's Platinum Partner for the 2017-18 season.
Surjits has been a valued partner of the Club for many years and stepped up to take on the Platinum Partner status in 2014. Their support allows the Club to provide a cricket program that is second-to-none in Australian Premier Cricket.
Surjits share Sydney Uni Cricket's core values of respect, determination and excellence, and this contributed to our favourite Indian restaurant becoming the Most Outstanding Restaurant for 2017 at the recent Inner West Local Business Awards.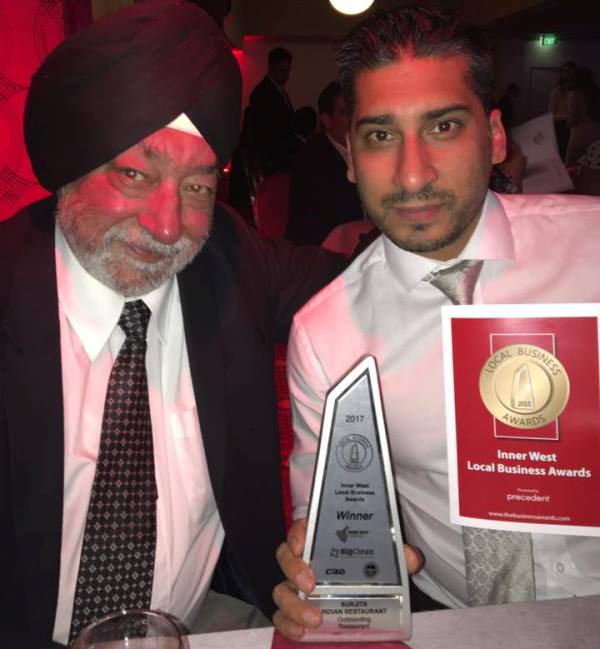 Surjits Indian Restaurant is the first
Indian restaurant to claim the coveted
Most Outstanding Restaurant at the
Inner West Local Business Awards
in over 30 years.
Congratulations to Surjit, Rasan and all of
the team at Surjits Indian Restaurant!
In 2017-18, Surjits Indian Restaurant will provide all players and supporters with a discount on their Surjit Banquet (min 4 guests). Please ask staff for details.
We will also get the opportunity to enjoy the delicious meals prepared by Surjit, Rasan and their team as they cater our key events throughout the season.
Visit the restaurant at 215 Parramatta Rd, Annandale to experience the most outstanding restaurant in the Inner West; or contact Rasan to discuss your event catering needs.
Sydney Uni Cricket looks forward to even more success for 2017-18 and the partnership with Surjits is key to ensuring that happens.
Support those that support us, and ask for the Barrah Kabab!